Our company (YZJ) with 20 years manufacture and 7 years export experience, has mature technology and high quality products.
Factory supply Two stage plastic recycling machine
Specifications:
a. Materials can be treated: HDPE/ PP Rigid materials
b. Technical process: Ration feeder — Extruder — Hydraulic screen exchanger — Water cooling tank — Drying system — Cutter — Silo — Electric cabinet
c. Model (screws die): YZJ-120, ZJ-150, YZJ-155, YZJ-160, YZJ-180, YZJ-200.
d. Capacity available: PE: 120-700kg/h PP: 120-500kg/h
e. Power consumption: 80-350 KWH
Two stage plastic recycling machine
Our YZJ Waste plastic recycling machine may regenerate polyethylene, polypropylene, polyvinyl chloride, PE, PVC, PET, ABS, PS (polystyrene foam) and other plastics. Our plastic recycling machine including the whole recycling line from crushing, washing, dry, and granules making machine, you can choose what you need according to your project planning.
Advantages of our waste plastic recycling machine:
1. The series of plastic recycling machine can be used both in dry and wet conditions washed material.
2.save place, time and manpower and reduce production cost.
3.Fully automatic production line of waste " independently developed by this company and put into the market in 2003 combines automatic crushing, cleaning, de-watering, conveying, feeding, wire-drawing and grain-cutting.
4.Labor saving: The whole production line can be operated by only two workers.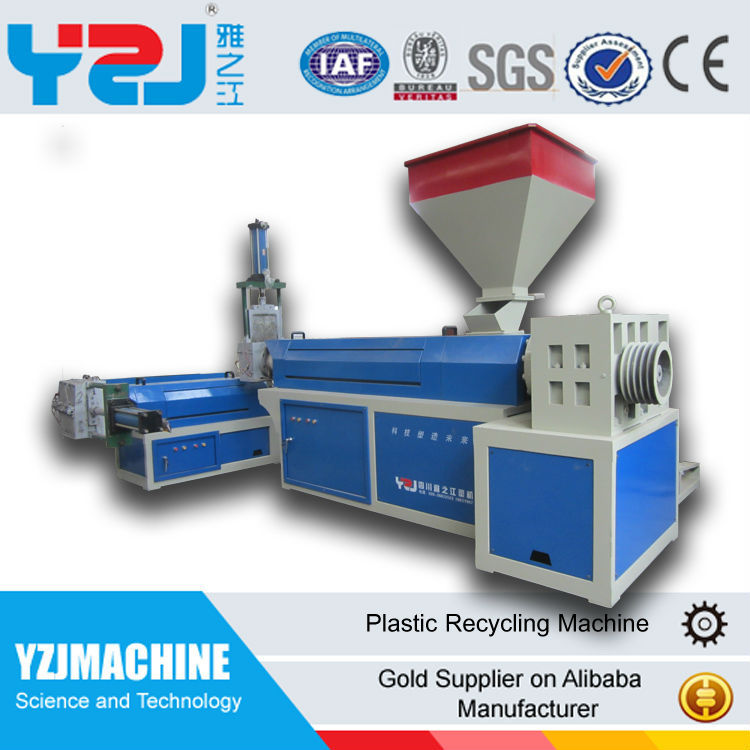 Certifications owned by yazhijiang company YZJ Machinery has acquired more than 300 patents in recent years and over 50 patents per year for its intensive operation several years. The company has been honored as :
1.The Leading Innovative Enterprise of Integrating Theory with Practice in China Plastic Machinery and Plastic Products Field
2.National High and New Technology Enterprise
3.Scientific and Technical Innovation Enterprise
4.Advantage of Growing Enterprise,
5.Intellectual Property Experimental Enterprise
6.Honesty and Integrity Taxpayer,
7.Hundred Million Enterprise
8.Advanced Enterprise of Project Construction etc.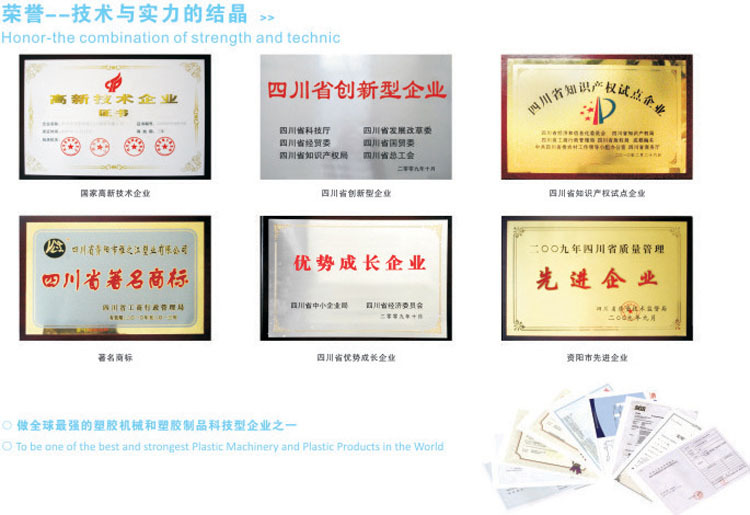 Exhibitions
Our company actively participated in various exhibitions, close contacted with customers, listen to the voices of customers and Increase the visibility of our products Increase the visibility of our products Increase the visibility of our products and increase the visibility of our products.
Packaging and Shipping
We use Wooden case package, wooden pallet, PE plastic film package etc, which is safe and not easy to destroy. . shipping is by train, by railway, by air. Lading port is Shanghai port and so on. Pictures of cargo loading will be sent to every client to check and
keep recording.